Visitor Management
Control the flow of the visitors, employees, suppliers and contractors
Control the flow of visitors, employees, suppliers and contractors. Keep up to date with information about visitors to your facilities.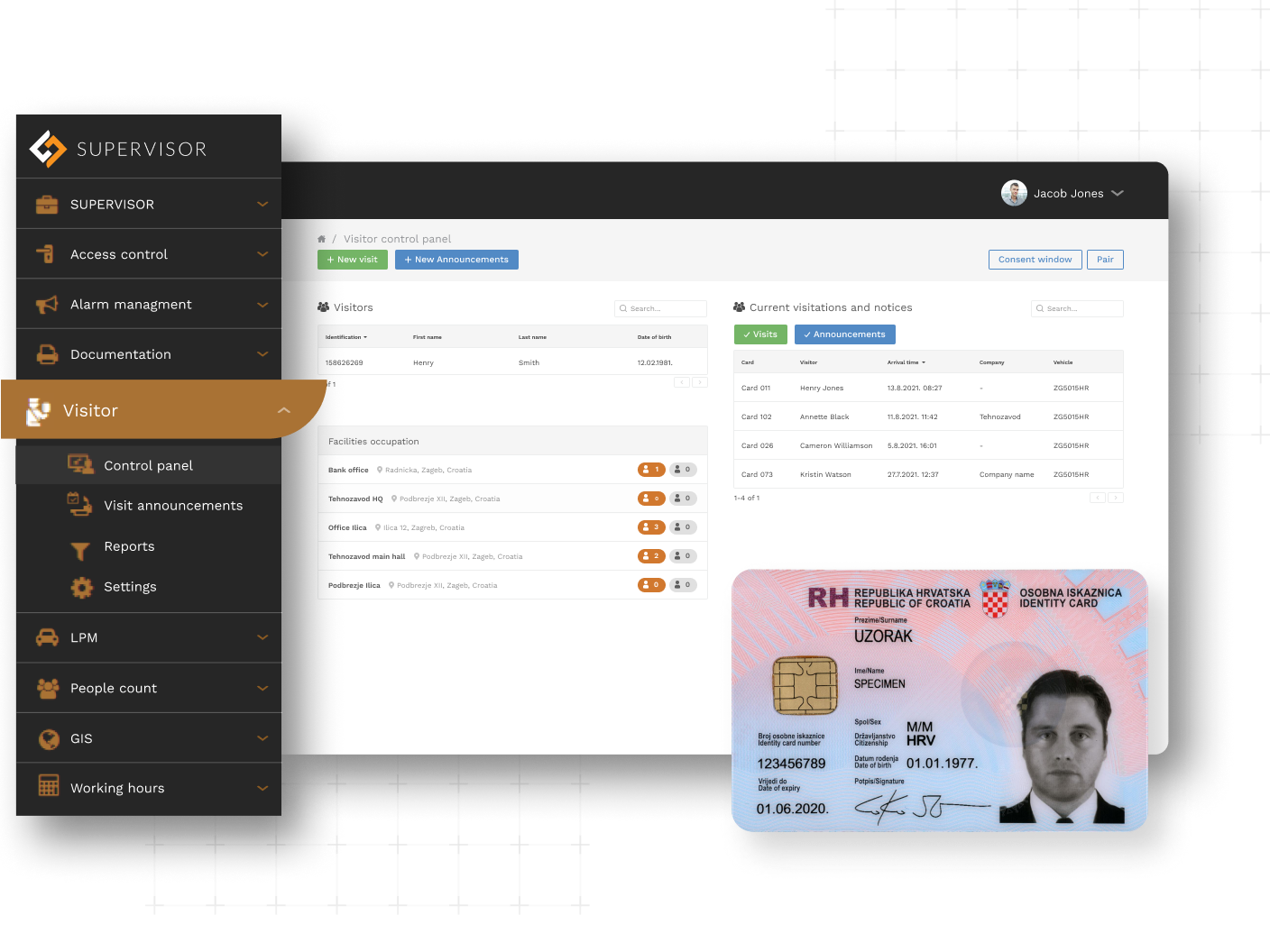 How to manage the daily flow of visitors in your facility?
With supervisor, it's easy and GDPR compliant. Having the right information helps you bring the right decision. Visitor
Management module in supervisor allows the security team to:
be informed who is expected to arrive at the location (suppliers, contractors), are they certified and/or approved and who is their contact person within the organization
know where visitors came from (entrance point and time)
know where visitors spend their time (on-site movement)
know visitors' exact location at any time
This information can be useful only if quickly accessible and convenient to use.
GDPR compliance and data privacy consent
Supervisor is integrated with scanning devices for personal documents and signature confirmation terminals, which facilitates the visitor management process. Data anonymization and other GDPR guidelines are included.
.
Suppliers and contractor's announcement
Inform security teams about upcoming visits from suppliers and contractors. Adding information about internal contact person, certification for contractors, access permissions within perimeter and expected time of exit will speed up the process of verification and improve security level.
Visitors count by zones
In Visitor Management module, people count by predefined zones (areas) is available in real-time, which can be necessary in emergency situations like evacuation.
Locating a single visitor
In events where a single person should be located within the site, Visitor management system combined with Video Surveillance will be of huge importance for quick reaction.
Employee attendance records
for operational planning: used by managers in production or logistics facilities to distribute daily workload to available employees
for analytics: used by HR departments to keep track of hybrid working models (office and work at home combined)
Employee working time records
for administration: working time records serve as a base for monthly salary calculation in businesses with hourly rates